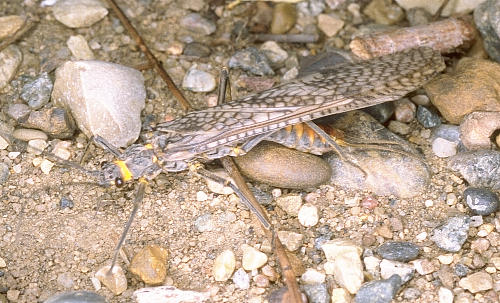 This large, impressive insect can often be found crawling around shorelines of streams and rivers, especially in rocky areas. They are an important part of stream and river fauna, providing food for fish and birds. Their absence is often a good indicator that a stream is being polluted. These insects are so important that conservation agencies and game fishermen keep charts of when they hatch. Check out these websites for examples of Stone Fly growth charts:
Occasionally individuals will fly some distance from the water and turn up in people's yards, being attracted to lights at night.
Stoneflies are adapted to well oxygenated streams and rivers. Stonefly nymphs have fixed gills that can only extract oxygen in moving water. If trapped in still water they die quickly. In turbulent, rocky streams, such as the Madison and the Big Hole in Montana, they provide the largest flies and the most spectacular fishing of the season. In certain Oregon streams they are the second most important fish food.
| | |
| --- | --- |
| Several weeks before they hatch, stone fly nymphs will start to migrate to the banks of the stream or river where they live. No other occurrence in our rivers produces a such an incredible feeding frenzy among trout and other fish as a migration of giant stone fly nymphs. Even the largest trout find it hard to refuse a big stone fly nymph. | |
Identification: Giant stoneflies can be up to 40 mm (1-1/2 inches) long, including the wings. Some small species of stoneflies are only about 10 mm long. The long lacy wings that overlap one another make this a rather distinctive-looking insect. There are over 200 species of stoneflies that range in size from about 10 mm to 40 mm (about 1/3 inch to 1-1/2 inches). Most are grey and black, some having orange areas between the thoracic plates. Some of the smaller species are greenish.

Giant stoneflies are found throughout Canada and ALL of the United States near streams and rivers. Some smaller stoneflies are found near lakes. All stonefly larvae are aquatic.

Adults of the Giant stoneflies are generally out from late May through early July, but some smaller species may emerge by early May and other species are primarily out in the fall. The larvae of some species live for up to three years and may remain active all year long.

Habitat and habits: All larvae are aquatic and are found primarily in streams and rivers. Many species are sensitive to a lack of dissolved oxygen in the water, and are good indicators of organic pollution.
They feed on plants, decaying leaves and detritus. They are also a favorite food for trout, as most fishermen will know. Adult giant stoneflies do not feed and thus usually live only for a week. Other species may live for more than a month as adults. Males of many species attract a mate by drumming their abdomens on the substrate, the females feeling the vibrations rather than hearing the sound.



Comments: As large as they are, these insects are incapable of inflicting any harm; in fact the largest ones, the giant stoneflies, have no mouthparts as adults.